James sees bright future for K-W United FC
Posted 31 May 2013 1:04 pm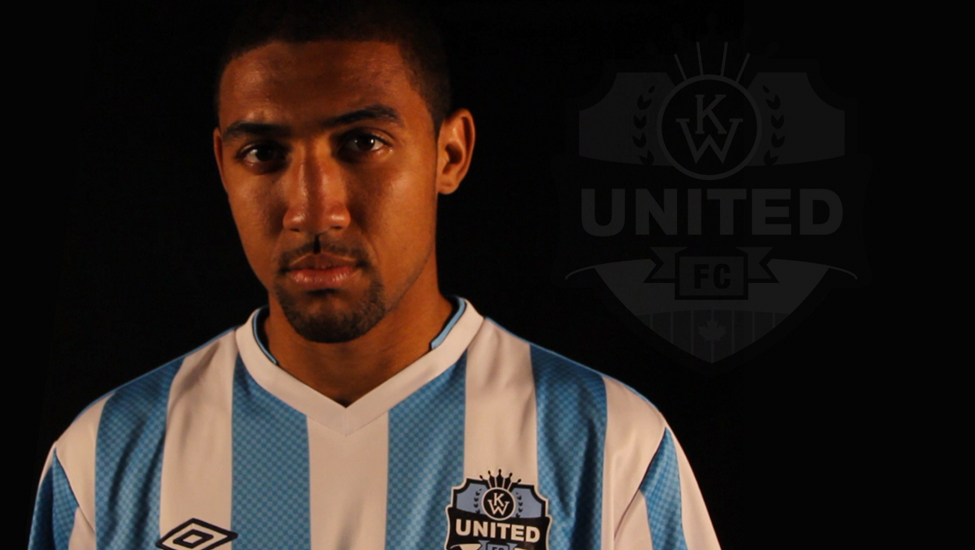 Photo capture by Chad Leitch
Waterloo, ONT. -
On June 7th,
Evan James
will be able to show Kitchener-Waterloo what he can do.
James joins K-W United FC after a stellar background career, which includes playing for the Montreal Impact of the MLS.
Beginning in basic club soccer from his hometown of Mississauga, Ont., James continues to excel in various leagues throughout the greater Toronto area. Once he graduated high school, James made the jump to the NCAA.
"I went to [University of North Carolina Charlotte] and did four years there," James said. "Luckily, in my fourth year, we were able to make it all the way to the finals of the NCAA."
While at UNCC, James recorded a stellar university career. He was named to the All-Atlantic 10 First Team and the NSCAA All-Mid-Atlantic Region First Team in 2011 after starting 23 of 25 games. James registered five goals and seven assists for the Charlotte 49ers. In his rookie year, James was also named to the 2008 Atlantic 10 All-Rookie team.
2011 continued to be a successful year for James, who was then selected first overall in the MLS supplementary draft to the Impact.
"It was a great experience," James said. "And then, while I was in Montreal, I got a chance to play for Canada's U23 qualifying team. We made it all the way to the semifinals and lost to Mexico."
James said that Mexico was the best team he's ever played, but the experience on the national level was invaluable. And it didn't stop there.
James was released from Montreal at the end of the season, and in the following January, he made his first appearance with the senior team in an exhibition game against Denmark.
"Then I went to Vancouver to train, but I guess it didn't work out there. Since then, I've been looking for somewhere to play," James said.
"I feel like I haven't played in forever," he laughed. "It's only been four months, but I'm like, 'what am I doing with my life?'
As a free agent for the year, K-W United FC head coach
Brett Mosen
, who saw talent in the experienced player, recruited James.
"My friend
Tevin Wynter
told me he was going to come here and told me I should ask Brett and see if I could train here while I was looking for places," James explained. "Brett actually called me himself before I got to call him. He asked me what I was doing and if I wanted to play and I said I'd love to."
"Evan is a very special player who, since experiencing MLS and national team duties has matured as a player," Mosen said. "He now brings a presence when he steps onto the field. His pace up front will concern our opponents and his ability to score spectacular goals will certainly excite our fans."
James signed with K-W United FC at the beginning of the season and has since then been named the captain of the PDL team. He has started in all three matches thus far.
"I know the level is good from the last time I played with Hamilton [FC Rage]," James said. "I came because I wanted to get a good run in, and I knew the team would be good, and hopefully I can score some goals for this team."
James said he's enjoying himself with his new team, which is comprised of eight international players and various NCAA athletes.
"How can you not have fun with these guys around?"
In terms of the play that K-W United has had so far, James believes that it's just a matter of getting their foot in the door. After falling behind early in two consecutive games in Chicago, K-W United were unable to climb back to tie either game.
But it's just a matter of time.
"I think we just need to get that first goal," James said. "Once we get that first goal, we'll be set. Because right now, we're struggling. We let goals in really early and then we put ourselves down. But if we can get that first goal and then dictate where we want our season to go, we'll be good."
Despite the slow start to the season, James has full confidence in his team and the rest of the season.
"We have the talent, we have the depth on the bench... I think we should be fine."