United Stars Shine in College Season
Posted 02 November 2015 9:56 am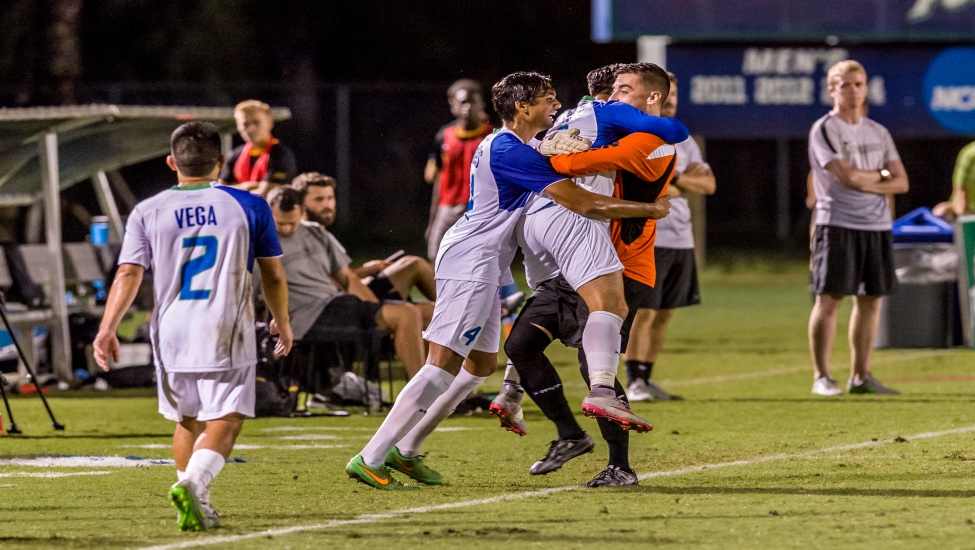 Dylan Sacramento celebrates his goal against Lipscomb with Nathan Ingham. Photo Credits: Linwood Ferguson (FGCU)
After capturing the clubs first Premier Development League title in the early days of August, it was promptly back to school for the K-W United FC players afterwards.
A day after being crowned league champions, players returned to their respective universities and colleges to kick off their schools 2015 soccer season.
After a 2-2 start to the PDL season, United flourished and cultivated into an unbeatable side that went on to win big games down the stretch. Led by a core of players from Syracuse University, Florida Gulf Coast University, and Coastal Carolina University, the team lost just twice through 19 games played.
Captains Nathan Ingham (FGCU) and Sergio Camargo (CCU) were big reasons for the teams success. Ingham, the starting goalkeeper, won MVP of the PDL final four weekend and kept that stellar form heading into the NCAA Division I season. Ingham has started 11 of the Eagles 13 games, allowing a mere five goals on 100 shotsfaced, good for a 0.872 save percentage.
This past weekend, Ingham claimed the Atlantic Sun Conference record for career shutouts with 26, registering his seventh on the season. His phenomenal season has been recognized on two separate occasions where he has been named Atlantic Sun Men's Soccer Defensive Player of the Week.
Alongside Ingham at Florida is another K-W player in Dylan Sacramento. The midfielder has also enjoyed a strong season, playing part in nine of his teams games, scoring six goals while adding a pair of assists.
Arguably, Sacramento's best goal of the season came in a 4-0 win over Lipscomb earlier in the month when he found his back facing the opposing net with the ball taking a perfect bounce for him to lob it back over the keeper and a couple of defenders. The goal showed up on Sports Centre's Top 10 plays of the day, coming in at number seven.
Meanwhile, Camargo has been consistent with his production for both club and school. The midfielder has played in nine of Carolina's games, with a balanced production of four goals and four assists.
Playing just ahead of Camargo in the Carolina team is Bryce Follensbee. The towering United forward has produced seven goals in 15 games for the Chanticleers.
United's largest contingent comes from Syracuse University where six players donned the black and blue for K-W over the summer. Forward Ben Polk who led the team with nine goals highlights the group of players, collecting 18 points for the Orange this season.
Julian Buescher and Juuso Pasanen man the midfield for Syracuse and both have played their part in the teams success. Buescher has played in every one of Syracuse's games, scoring seven goals and providing seven assists, an impressive record for a midfielder.
Pasanen, who tends to play defensive midfield, opposite to Buescher who enjoys attacking, has three assists to his name.
Liam Callahan and Louis Cross are the other Cuse players who were apart of United's title winning side. Callahan, a left fullback who can play both sides of the ball, has registered a goal and six assists.
Cross lines up alongside Callahan on the defensive line, plying his trade at centreback. The Englishman has found the back of the net twice while helping his team to four shutouts and a 10-5-2 record.
The NCAA Division I rankings has Syracuse ranked 10th in the nation, while Carolina sit three spots below in 13th, and with Florida coming in at 42nd.
Other notable schools with United players in their programs include Michigan State University, where former United player Jay Chapman and current Toronto FC player attended, and University of Guelph.
Midfielders Kyle Rutz and Ken Krolicki have helped the Spartans to an 8-7-2 record while defender Justin Springer's Gryphons own a 13-7-3 record, sitting fourth in the Western Conference of the OUA standings.
As playoffs approach, K-W would like to wish all our players continued success in the post-season!