Ononye named player of the year
Posted 30 July 2014 11:08 am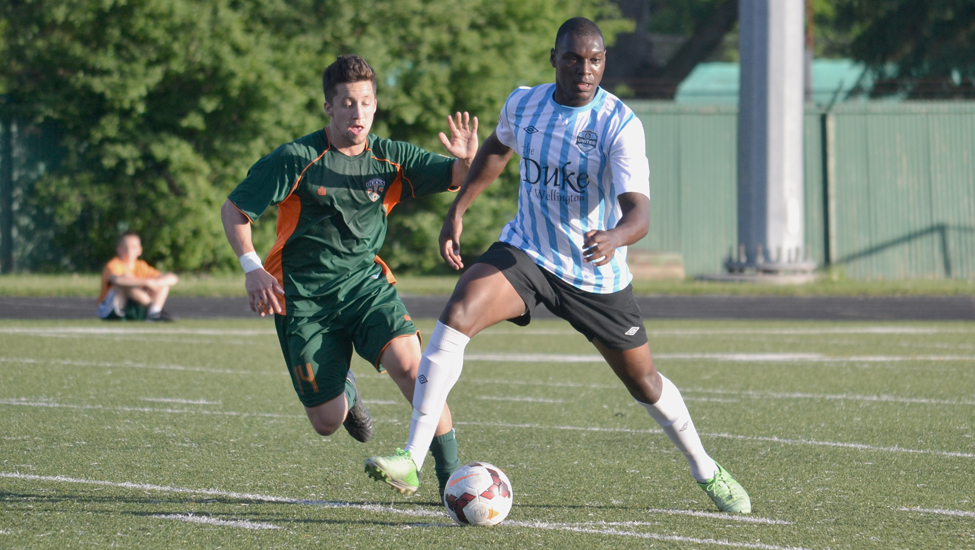 Emeka Ononye was named K-W United FC's player of the year. (Photo by Shelby Blackley)
WATERLOO, Ont. -- K-W United FC gave out their annual awards last week, with defender Emeka Ononye winning player of the year as chosen by the coaching staff.
Ononye, a first-time defender with United, made an immediate impact on the starting back four. He played in all 1260 minutes this season, which equates to a whole 90 minutes in 14 games. He recorded three shots and seven fouls, but his recognition comes from being a vocal presence and a motivator. Ononye, a member of Wright State University's men's soccer team, was a very large part in the success of the men's club at United this season - finishing in the Sweet 16 of the PDL championship.
This is Ononye's first award with K-W United.
Following up, rookie of the year was given to Alain Sargeant, a newcomer to United this year that made a strong impact. Sargeant played in eight games for a total of 565 minutes, and recorded four shots and five fouls. Sargeant was a presence on the field and was a strong addition to training and the camaraderie of the team.
This is Sargeant's first award with K-W United.
Finally, the "player's player" of the year, which is awarded to the member of the team with the most votes from his peers, was given to goalkeeper Darrin MacLeod. MacLeod, who was in his second season with K-W United, played seven games and recorded a total of 583 minutes between the pipes. He finished with a record of 3-2-2, which included two shutouts. MacLeod finished the season with an astonishing .926 goals against average and stopped 50 of the 56 shots he faced this season. Most notably, MacLeod is known for his clutch saves during dire times, including a penalty kick in a 1-0 victory over FC London. MacLeod also played in the playoff game against Des Moines, where he lasted 120 minutes not allowing a goal despite 13 shots at him.
This is also MacLeod's first award with United.
PDL:
Player of the year: Emeka Ononye
Rookie of the year: Alain Sargeant
Player's player of the year: Darrin MacLeod